The results from our March Industry Transparency Center survey are in, and provide some interesting insights into how consumers understand and purchase supplements related to immunity.
Last week, I wrote about how understanding and using the word 'immunity' in a responsible way is vital for the industry during the current COVID-19 situation.
The bottom line is that there is a great deal of confusion in the marketplace, and that
shoppers can be – and in many instances are being – misled by irresponsible and cynical marketing.
This got us to thinking a little more about what shoppers are looking for right now, and what ingredients they associate with immunity. So, we asked some.
In its March survey, Industry Transparency Center asked 507 consumers about their perception of supplements linked to immune benefits. 
We asked:
 "If you were to purchase an immunity supplement, which would you choose?"
As many would expect, vitamin C and vitamin E came out on top, with almost half (49%) of all responders telling us they would chose an immunity supplement containing them.
Next up was probiotics, with 13% of our sample shoppers suggesting good bacteria would be their choice for boosting immunity right now. While elderberry and zinc were both on 12%, the raw data shows that elderberry just makes third spot for consumer choice.
Ginseng (6%), omega-3's (5%) and prebiotics (3%) round out our list of ingredients and nutrients that shoppers may intend to purchase in order to aid their immunity.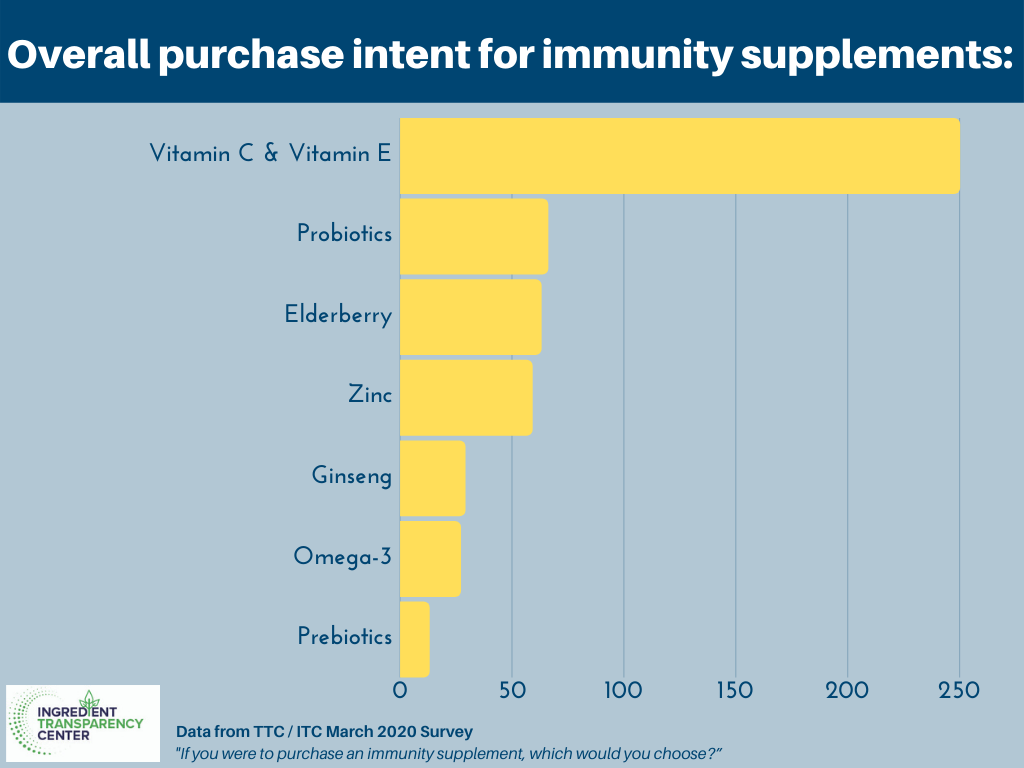 Digging deeper
While looking at the above topline data can provide interesting insights on overall consumer purchase intent, a deeper dive into demographics can provide some fascinating perspectives.
When we split purchase intent by gender we see that men are more likely to buy vitamin C and vitamin E than women, for example, with 54% of men opting for the ingredients compared to just 45% of women (total average was 49%). 
But that is just the start:
When we look by age range, differences in purchase intent continue to shed light on how certain ingredients are engaging better with certain demographics.
A great example of this is omega-3. Our data shows that purchase intent linked to immune benefits is highest in 18-24 and 25-34 categories, after which it rapidly falls. A similar trend is seen with ginseng – albeit more gradual.
Meanwhile there is a trend towards increased purchase intent for elderberry, vitamin C and vitmain E as we age.