By some estimates, over 90% of the global population has been in some form of lockdown with dramatic changes in lifestyle and behavior in recent months. While we don't know exactly what will happen as lives begin to return to some form of normalcy, we know that in many ways we have now stepped down an unpredictable path with new norms.
Industry Transparency Center captured a snapshot of April dietary supplement behavior shifts in shopping behavior in our most recent survey. We asked 1000 US and UK consumers the question: "Which best describes your current purchasing pattern of dietary (food) supplements." The responses are below, for the US, with almost one third (32.6% of US consumers) indicating no shopping behavior change. In the UK, 31.6% of consumers stated no change. The next most popular answer was 'buying from retailers that have what I need' (21.5% UK, 20.5% US) and 'I only buy from local retailers' (19.2% US, 19.2% UK). Even the 4th answer was exactly the same across the US and UK consumers surveyed (14.0% UK, 14.1% US), 'I buy from big online retailers like Amazon'.
US Data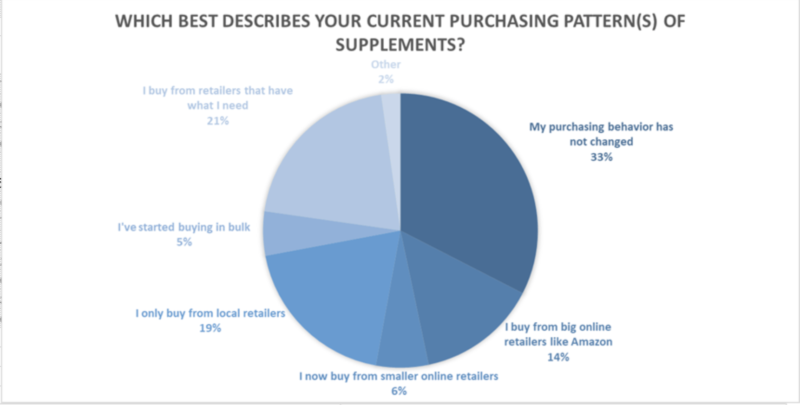 UK Data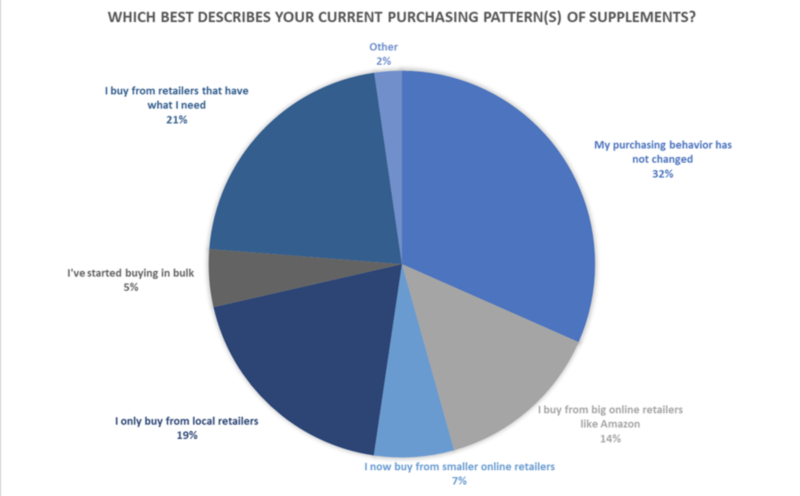 The fact that the responses are identical in both markets is not surprising as both the UK and US have followed similar trajectories over recent months and market and economic pressures are also similar. Additionally, the shopping channel options resemble each other, with a mix of national and regional options and an increasingly viable and dynamic online channel. The fact that one-third of consumers have not changed their behavior is a bit surprising, as other data sources have suggested that online buying, especially for supplements, was increasing. We had also heard that reliable supply was an issue, so the fact that consumers shopping behavior was following product availability certainly made sense. The movement to local buying is a phenomenon to watch over the next few months. As normal social patterns have been interrupted, consumers are supporting their own neighborhoods, looking for supply chains to be repatriated locally where possible, and have established an increasingly personal connection with where they buy. Of course, this desire for local is at odds on many ways with supply chain realities so it will bear watching to see how repatriation and supply chain transparency mix – or not.
Going back to the survey responses. The demographic breakdown was interesting. In the US, 44% of females said their behavior had not changed, compared to 36% of males. In the UK, those numbers were 44 and 41% respectively. In buying from large online retailers like Amazon, males and females were equal in the US, while in the UK, it was skewed female (51% to 36%). In both the US and UK, more males are buying in bulk.
Breaking down behavior by age showed that younger UK consumers ages 18-34 were more likely to migrate towards large online retailers like Amazon than US consumers (37% versus 19%) while supply was a major concern with older US consumers aged 55 and up, relative to UK consumers (38% shopping based on supply versus 29%). The preference for smaller online retailers was slightly higher in the UK.
US Data

UK Data

We'll track these behavior patterns throughout the next few months, and suspect that many consumers are paying increased attention to their supplement regimen, will next be examining consumer compliance – are consumers taking and reordering supplements with more regularity?
Stay tuned.
~Len