The results from our July Industry Transparency Center survey are in, and there are clear demographic differences in priorities regarding sustainability.
In our July survey, Industry Transparency Center asked more than 2000 consumers in the UK and the USA about the importance of various aspects of sustainability when purchasing products.
We asked:
"When choosing an eco-friendly product, what aspects of sustainability are most important to you."
Packaging concerns remain top of mind …
When we look at the overall data – combining men and women of all ages from both the UK and USA, it is clear that the ongoing fight against single-use plastics has helped to ensure characteristics linked to eco-friendly packaging and product durability are top of mind for the majority of consumers, while being locally sourced is also clearly of growing importance.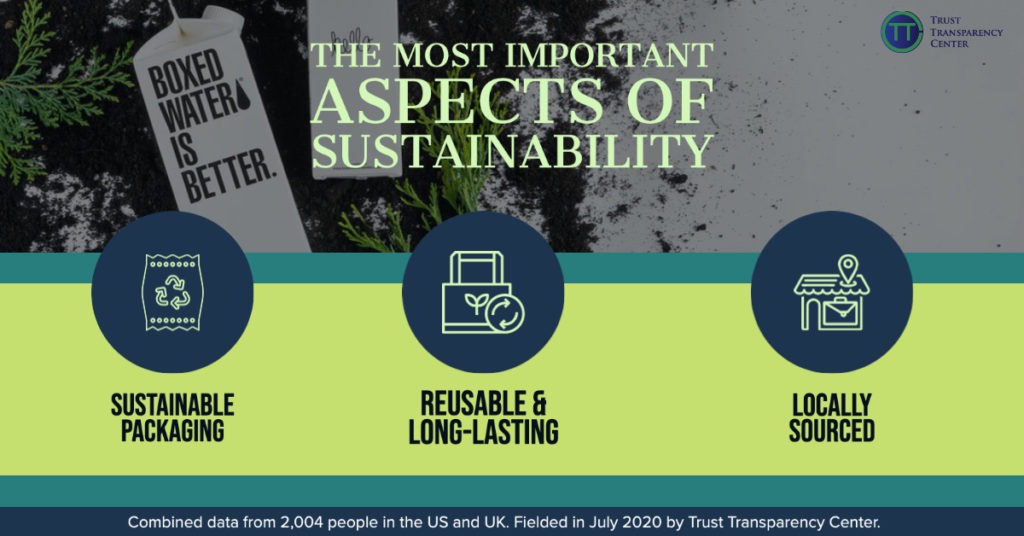 In the UK specifically, recycling and reuse make up the whole top of the list, with ensuring products are able to be recycled or composted in the top spot, the fact that a product is reusable or long-lasting in second, and whether a product is made from recycled or eco-friendly materials in third.
Meanwhile, in the USA we see a slightly different story, with consumers less focused on whether materials have already been recycled, but a greater focus on locally sourced products.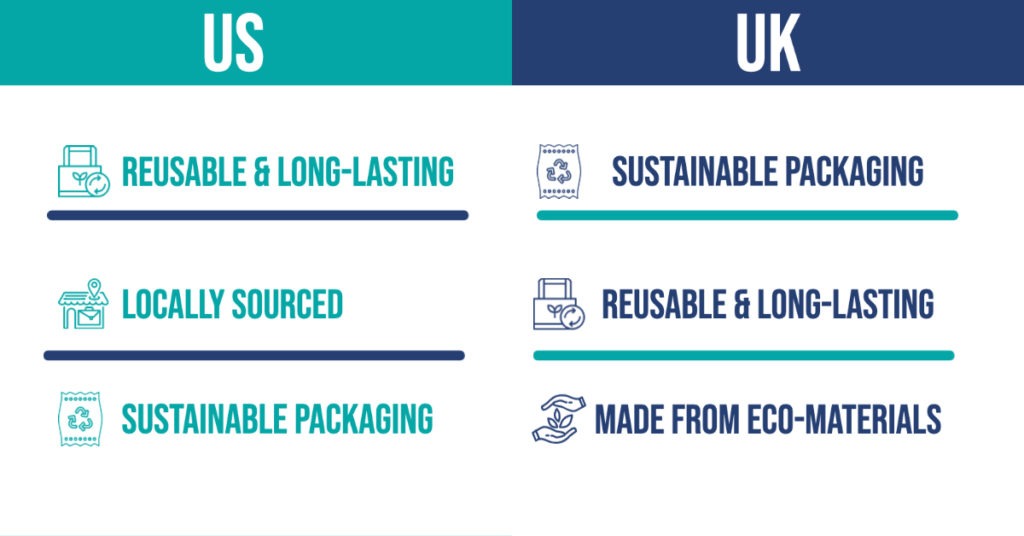 Confusion over eco-labels and carbon footprints?
One clear finding for shoppers in both countries is that the carbon footprint of a product or whether the it carries an eco-seal, such as Fairtrade, are seen to be much less important.
Some may think this is surprising, especially given the ubiquity of ethical and eco-labels on products globally and the huge focus on reducing carbon emissions. However, it has been repeatedly suggested the sheer volume of eco-seals and ethical logos on products is itself a problem.
Indeed, there is some evidence to suggest that the huge number of logos and certifications on foods only leads to further consumer confusion, and that this lack of understanding has simply led to many shoppers ignoring ethical and sustainable logos for the most part.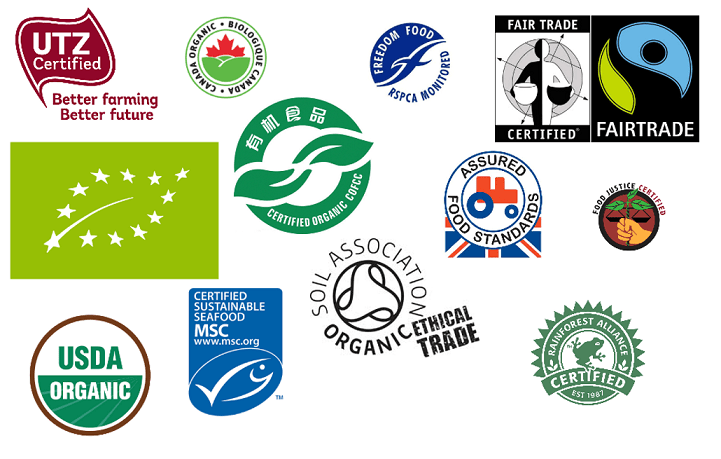 Though in its infancy, the same principle is rapidly becoming true of carbon footprints and offsetting schemes. I'm certain that shoppers do actually care about the ethical credentials of products, just as they would surely care about levels of carbon emissions associated with a product.
But measuring carbon footprints is difficult. Everybody has a different method. And even once you've measure it, those who truly care are well-informed enough to know that the majority of lower carbon claims are associated with carbon offset schemes that are questionable at best.
Still, given the huge number of eco-seals out there, the fact that an average of just 6% of shoppers (and less than 5% in the USA) said they care about such schemes may be painful reading to some.
(Not such a) battle of the sexes?
Moving away from regional variations in order to look at issues of gender, we see there is actually much less variation in terms of how consumers rank the importance of sustainability attributes.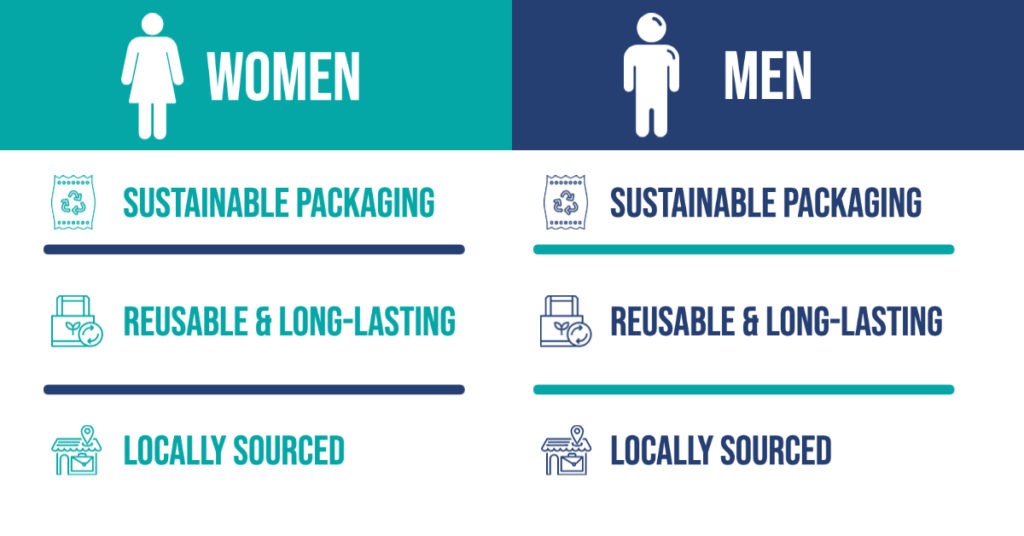 That's pretty boring, you might say. Why even bother to tell us that?
Well … because in a world full of stereotypes and gender inequality, knowing that the overarching priorities of both sexes are the same is good to know.
And it serves as a useful reassurance when we start to look at some of the subtle, but potentially quite interesting, differences that do exist between the sexes.
For example, although both women and men rank sustainability attributes in exactly the same order, the skew of distribution across those priorities shows how attitudes may differ slightly.
Here are some of those fun and weird skews:
More women tended to vote for the top three ranked sustainability aspects than men. In fact, almost a third of all answers by women were clustered within the top three while for men it was just over half.
The reverse is true for those deemed universally less important. Though they ranked lower in terms of importance overall, men tended to vote for them in higher numbers than women.
This was most clear in the finding that men seem to place significantly higher more value on whether a company is known to be eco-friendly than women – while women tended to place significantly more value than men on attributes like product durability and sustainable packaging.
The generation game?
Looking at how these issues are prioritised by people in different age brackets is perhaps the most interesting of the lot – with a clear split in attitudes that we will explore in a future blog.
Until then, stay happy, safe and healthy.
Are you #NaturallyInformed on Sustainable issues?
By 2021, Nielsen estimates that one quarter of total store sales in the U.S. ($150 billion) will be in sustainable products, with sustainable products expected to outperform traditional products.
Suppliers, brands, retailers, and other industry partners need to make better business decisions and be informed about challenges and opportunities on the path to sustainability. 
Our Driving Value Through Sustainability Across the Supply Chain event takes place from August 26-27, 2020. The two-day event will feature inspiring keynotes and talks by industry leaders who will share insights and solutions on areas including:
Drivers of sustainability with insights into market demands
Reducing carbon footprints in a global supply chain
Sustainable sourcing of ingredients; food tech & sustainability
The regenerative agriculture movement