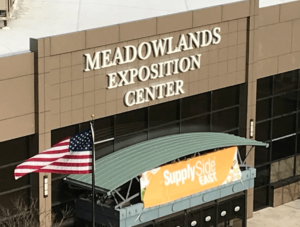 What a sense of deja vu. Just arriving in Secaucus was enough to set me shivering a bit -and not solely in anticipation. In the old days, we'd drive down from Toronto to the Meadowlands, a solid bonus being an 8 hour built-in strategy meeting while in the car. We'd then settle into a 12 hour, 2-day show experience that was friendly, comfortable and pretty low key. And yes, productive.
Well, guess what? Very little has changed at SupplySide East.
This year, SupplySide East returned to the Meadowlands Convention Center, and despite Engredea and Expo a few short weeks ago, attendees found lots to talk about. From well before the opening bell, while waiting for the doors to open, until the first evening reception and even past, there was engagement, and an almost nostalgic feeling (ok, maybe that's me) but a sense of solid business being done.
I had conversations that I've been meaning to have with people for years. I saw folks I had not seen since the last SSE in New Jersey. And the amount of time one could devote to each conversation and interaction was meaningful, something increasingly difficult to say about Las Vegas or Anaheim. There were new ingredients, ingredient science and representations. The depth of attendees on the floor was deep, far deeper than recent Ingredient Marketplaces. True to expectations, companies could and did send many people versus a sole representative they sent to previous events. The New York and New Jersey crowds came out and supported. Many did a day trip. And it was intimate and informative.
At this point, I want to narrate two specific conversations I had at the show, trying to understand some real aspects driving business in our industry. The first one occurred at one of the booths where a potential client, a relatively new market entry, asked the sales director of a branded ingredient company, "how is it that I can buy products online that are substantially below or even at a fraction of my raw materials cost?". This pricing disparity, made even more visible and viable in the online world, continues to plague us. Not only are the products this buyer is talking about likely inferior in quality, they are probably less efficacious, and claims are not substantiated. Undoubtedly, the product promise and consumer trust is hugely jeopardized.
The second conversation involved random product testing, again, of product purchased online. In a particular category (stay tuned for more on that later), over 80% of products tested failed to meet label claim on the ingredient using current USP methods. Well, let's 'presumably' all agree that this is a PR disaster waiting to happen.
It seems as if the current environment is giving companies new ways to make the choice of doing business the easy way or the right way. That's not the signature of a mature industry. It's also not the signature of a category with proper vetting in place. WE need to learn to do a better job of enforcing the right way of doing business and call out the "easy" way of doing business. The Industry Transparency Center and its affiliations are committed to doing just that.
~Len