The results from our July Industry Transparency Center survey are in, and make fascinating reading – with clear differences in priorities regarding sustainability seen between different age groups.
In our July survey, Industry Transparency Center asked more than 2000 consumers in the UK and the USA about the importance of various aspects of sustainability when purchasing products.
We asked:
 "When choosing an eco-friendly product, what aspects of sustainability are most important to you."
This blog is the second in a series analyzing how consumers perceive issues around sustainability ahead of our #NaturallyInformed two-day conference August 26/27  focused on driving value through sustainability in the supply chain.
Part One looked at some of the initial demographic breakdowns from our July survey. Today, we dig a little deeper into the same dataset, but focus specifically on how different age groups seemingly prioritize different issues in sustainability.
Packaging concerns outweigh eco cred …
Last time out, we learned that when we look at all of the data combined – for men and women of all ages in the UK and US – the primary concerns relating to aspects of sustainability relate to whether a product has sustainable packaging and whether it is reusable and long-lasting.
Rather surprisingly, aspects relating to carbon footprints, eco-labels on packaging, and a company's record on sustainability issues (that the company is known to be eco-friendly) did not rank highly on the overall scales.
I used this as an opportunity to discuss how confusion over the high number of eco-labels, and mixed messages on the validity of measuring and offsetting carbon footprints make be creating consumer confusion – or at least so much noise that people are simply tuning it out.
But that doesn't perhaps tell the whole story …
The generation game?
When we look at priorities split over age groups, we begin to see some interesting patterns.
While it's clear that sustainable packaging is a high priority for all generations, there are some interesting trends that begin to pop out.
For instance, the relative importance of a product being reusable and long-lasting increases with age. When we look at the top concerns of each age range, this is the primary concern of those aged 55-64 and 65+, it ranks at number three for those aged 35-44 and 45-54 … but doesn't make the top three for those aged 18-24.
More than 23% of  those over 55 ranked reusable and long-lasting as an important aspect, while just over 15% of 18-24 year olds did the same. It seems we begin to care more about the durability of products as we age.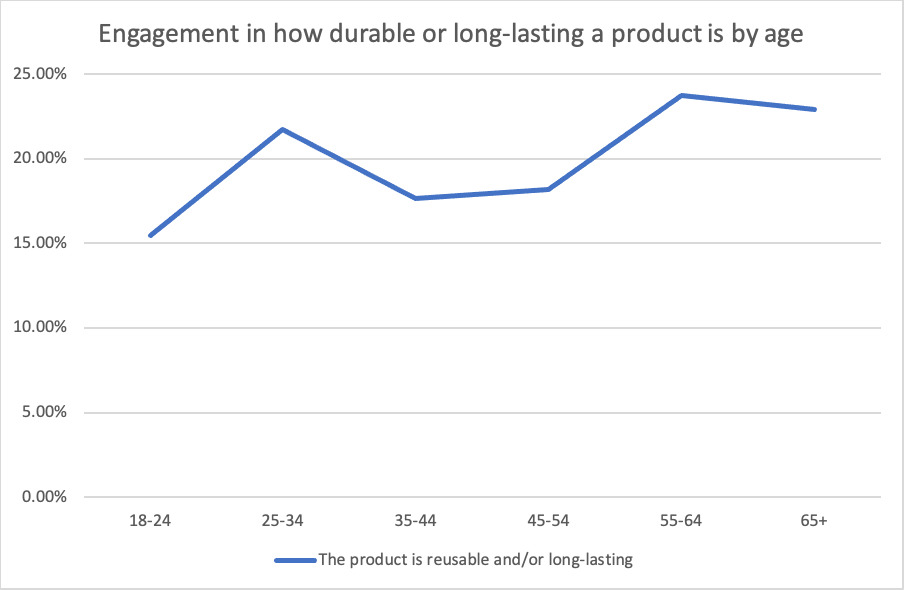 We can see the opposite association very clearly when looking at how much people care about a company's eco-credentials. In adults aged 18 to 24, this is an important aspect of sustainability. Indeed, our UK data shows it to be the most important aspect for this age group.
Yet there is a clear drop-off in ranking after this age group – both in the UK and the USA, the number of people ranking this as important after age 25 is slashed.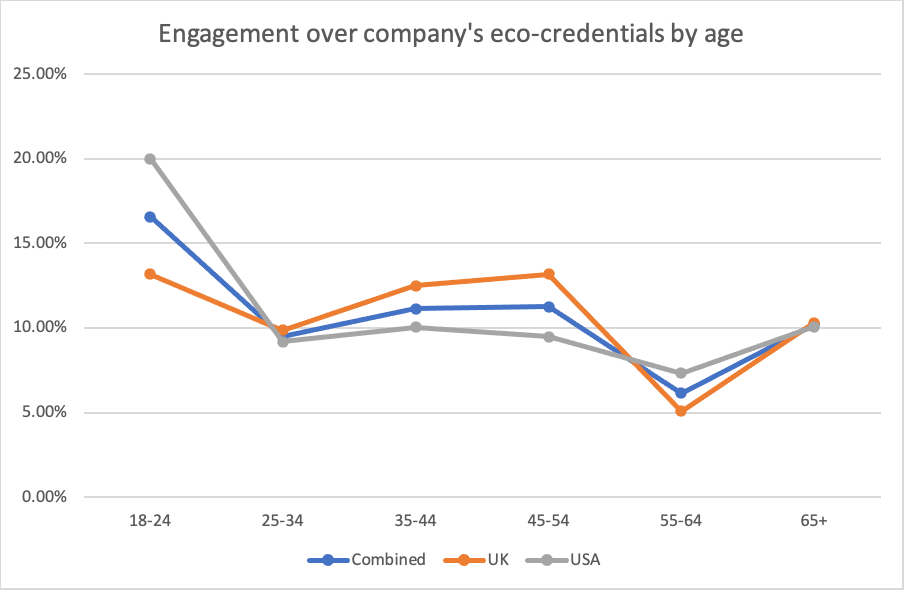 Perhaps companies do more to target young people with messaging on sustainability – perhaps young people are connecting with companies in a different way than previous generations?
The same pattern is seen with issues relating to carbon footprint – with the highest scoring coming from the 18-24 crowd, before a rapid decline that pretty much flatlines after it drops off.
So, there's clear differences in how the youngest and oldest consumers in our survey prioritize issues on sustainability, with younger generations clearly much more engaged on issues like carbon footprints, the eco-credentials of the company itself, and even the use of eco-labels.
But what about those of us – like me – who are clearly no longer under 25, but equally are not 55+. Well, it seems those middle years, specifically 35-44 and 45-54, are when we all want to head to the farmer's market for some nice local produce.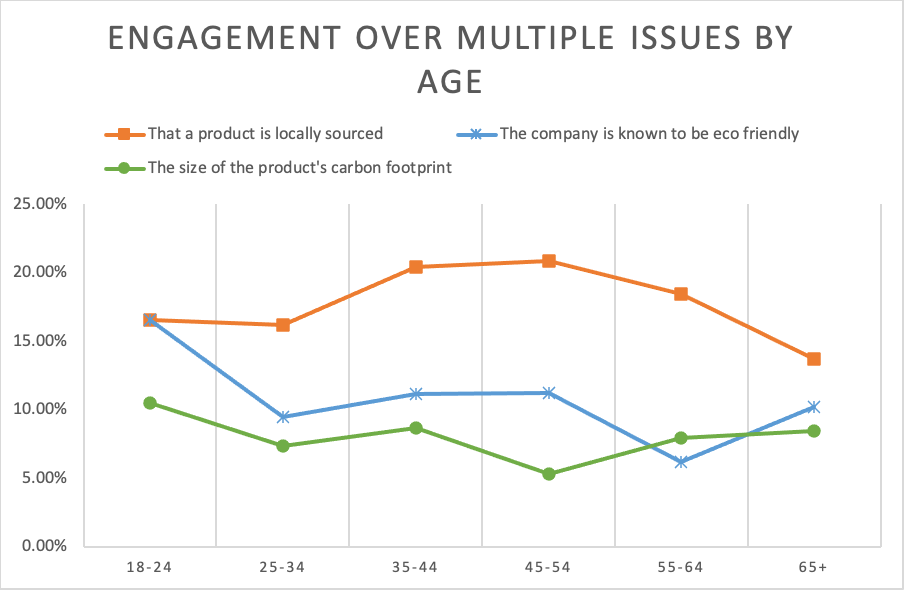 It's clear there are generational differences in how issues around sustainability are prioritized – that younger generations seem more engaged on issues of carbon emissions and how well a company is performing in its sustainability mission.
Given sustainability clearly means different things, to different people, how can we better engage on the issue?
We've partnered with WholeFoods Magazine to bring you Driving Value Through Sustainability Across the Supply Chain – in which we will explore these issues in more depth and plan for the future together.
Are you #NaturallyInformed on Sustainability Solutions?
By 2021, Nielsen estimates that one quarter of total store sales in the U.S. ($150 billion) will be in sustainable products, with sustainable products expected to outperform traditional products.
Suppliers, brands, retailers, and other industry partners need to make better business decisions and be informed about challenges and opportunities on the path to sustainability. 
Our two-day event taking place August 26-27, 2020 will feature inspiring keynotes and talks by industry leaders who will share insights and solutions on areas including:
Drivers of sustainability with insights into market demands
Reducing carbon footprints in a global supply chain
Sustainable sourcing of ingredients; food tech & sustainability
The regenerative agriculture movement